Georg und Heinz Petry OHG has been located in Merkenbach for over 60 years. What had started in 1930 as a side occupation, to polish drawing dies, was made official on the 27th of July, 1942 by Willi Petry: In the house and former forge of his father, he started what was at that time solely a "company for the repair of drawing dies used in the manufacture of fine wires", as stated in the trade registration documents. Willi Petry had started his career at the company Berkenhoff & Drebes as an apprentice locksmith and turner, before he took up employment at the company Haas & Sohn after the 1st world war, where he began to build up a department for the production of fine wires and the polishing of diamond drawing dies. In four decades of his work there, he not only achieved the position of foreman, but was also responsible for the conversion from diamond to tungsten-carbide drawing dies. The knowledge acquired at Haas & Sohn, helped him to form and enlarge his own company, with his son Heinz joining in 1957.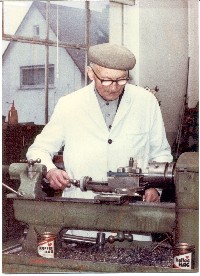 Company founder Willi Petry
still worked in the family
company at the age of 90
In 1998, his son Georg joined the company. He was made an Associate in 2007. Down to the present day, the strength of the traditional, yet future-oriented family company, lies in fulfilling customer orders fast, precisely, and with the ability to adapt. Presently, we are a manufacturer of tungsten-carbide drawing dies and divided hard metal cores. Additionally, we can rework drawing dies, coating dies and shaving dies, if requested. Customers include companies in the wire and cable industry at home and abroad, who appreciate the service, competence and quality of a family-run company. As such we guarantee a high quality hard metal, as well as the application of modern machines, and a well-established expertise in production. Tradition to us means an obligation; quality and flexibility are imperative!